Roots Garden Maintenance & Landscaping In Buckinghamshire And Berkshire
Who We Are
Welcome to Roots garden maintenance and landscaping in Buckinghamshire and Berkshire. We are an independent company with over 20 years of experience designing, constructing, planting and maintaining gardens. By listening to you, our knowledge, imagination and attention to detail enables us to create your bespoke garden design, giving you the perfect outdoor living space for you to enjoy and relax in, turning your dream garden into reality.
---
Flexible and Competitive
Sometimes a garden project can be very over whelming and you find yourself stressed out, not knowing where to start. Whether it's overgrown and in need of a tidy up or outdated and ready for a face lift, our broad range of experience and knowledge allows us to allocate the right team members to you and your garden. We will take care of everything for you, removing the stress factor and leaving you with a garden that you can spend time and relax in. We offer garden maintenance and landscaping services to suit all budgets.
Trusted and Respected
We give the same high level of service and attention to detail to all our clients whether we are working in a private garden or commercial grounds. We care deeply about every one of our customers and take pride in the services we offer, and as a result we have clients who trust and recommend us, coming back to us again and again.
What We Do
Design
Decking
Paving
Lawns
Fencing
Garden Maintenance
Consultations
Outdoor Kitchens
Driveways
Water Features
Pergolas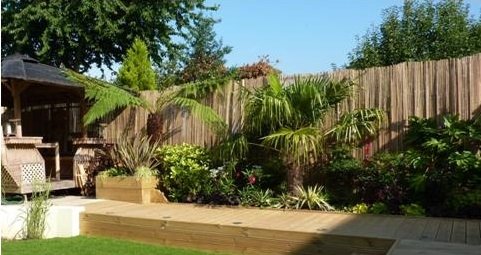 Landscaping
We provide our clients a plan which outlines designs and budget to help bring your dream garden into reality. We visit gardens across Buckinghamshire and Berkshire to discuss the type of styles and layouts our clients would prefer.
---
What Our Clients Think
"Great people to work with; easy to ask for certain tasks to be done or knowledgeable enough to let the team get on with the jobs as they see necessary"
Bi-monthly garden maintenance – Beaconsfield
"We were extremely happy with the work. The design and attention to detail were first class. I can highly recommend this company."
Garden redesign and makeover -Slough
"Roots was the only company to quickly and clearly understand what we required. There was no hard sell or pushy persuasion. We found a company with much experience and insight. The standard of work was excellent"
Ralph
"Impressive from start to end. Good understanding of customer needs and options to suit. Implementation carried out by capable and friendly team with a high standard of work and cleaning up, Very good communications through the job and delighted with the result."
Geoff